Beth Custer and The Left Coast Chamber Ensemble
© 2006 BC Records | BC 9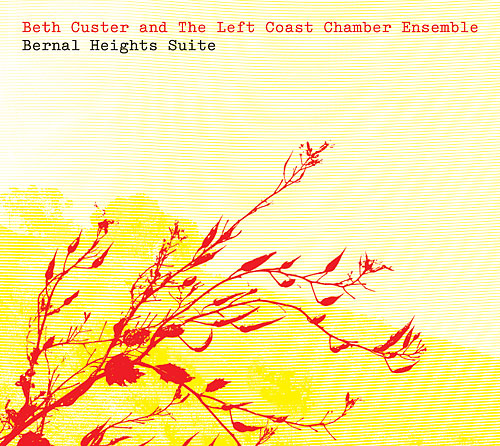 BC Records' first chamber music release, the Bernal Heights Suite CD is a collection of songs and instrumentals composed and performed by members of the Left Coast Chamber Ensemble: Anna Presler, Phyllis Kamrin, violins; Kurt Rohde, viola; Leighton Fong, cello, and myself on vocals.
Bernal Heights is a charming San Francisco neighborhood where I've lived, walked, practiced yoga, picked berries, and composed for many years. Bernal Heights Suite is a seven movement chamber work for string quartet and voice. Each movement depicts a characteristic of the neighborhood: Little Lundy's Lane describes a cat and tree lined street; The General of Godeus depicts an elder who walked the hill for many years in full military regalia; Progressive Grounds a warm neighborhood cafe; Daikon Radish a poignant list of the flora and fauna on the hill.
The disk includes Scary Monster String Trio, a film score without a film (!) using euphoric/melancholic melodies over bi-tonal chordal movement and slightly askew rhythms in a sweet seven minute romp.
These chamber pieces represent a return to working with the Left Coast Chamber Ensemble who performed and recorded Custer's Vinculum Symphony Live!. LCCE are virtuosic and approach my music with the detail and sense of humor it requires. Enjoy!