©2022 All Hands on Deck Publishing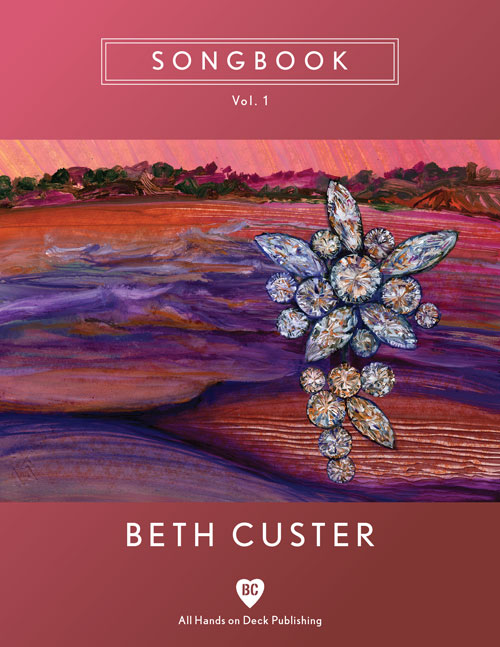 Here are 22 songs composed by bicyclist, clarinetist, and eclecticist Beth Custer. A quick look-over shows the richness of Custer's creative life. One sees crime stories, love stories, and a number or two written for the justice- seeker. It's traveling music, as it were –composed in Minneapolis, Cuba, the High Sierras, a castle in Italy and a villa in the Santa Cruz mountains. The songs aren't just about where Custer went, but where she came from. "O, Fredonia" is about the village she grew up in, a college town that's about as far west as you can go in the state of New York. Duck Soup fanciers claim that Groucho Marx was passing through and saw the Fredonia sign from the train window.
Just as a certain number of clicks and likes that will tell us how important we are or aren't, Bing has a little graph that shows us how the use of a word has become more or less popular in the last couple of centuries. 'Vinculum' is at a low ebb now, but it was at peak use in 1830 and about 1952. It means the little straight line that a mathematical formula wears as a hat, or a tissue that connects fingers and toes. Custer had a symphony to name. Plucking the word from the realm of the scalpel and the slide rule, she may have found the perfect term for what connects her music.
Custer can absolutely slay genres: here's her exciting take on Carl Perkinsish country and western ("Jackrabbit")–lively as it is, it turns out to be an excerpt from a musical about an unspeakable crime. She excels at nocturnal jazz, and torch songs, Cubano music, and a spot of bluegrass. There are elegies for her uncle and her beloved grandmother, as well as her overture for the definitive soundtrack for the Soviet Georgian silent film 1929's My Grandmother, which she performed in Europe and Russia.
Custer has a singing voice that is conversational, intimate and affecting. She is a wizardly clarinetist of great dexterity and tone, and a bright, unsparing lyricist.
This collection includes excerpts from work with a number of collaborators– the most Club Foot Orchestra-like song, "Dymaxion Transport" is named in honor of Buckminster Fuller's ride. An ode to a car: perhaps another song about hitting that road, the urge to ramble and to come home safe.
What connects these 22 songs in all of its ranges and styles is that it is all uniquely Custer's. Now musicians to come can study these pieces and carry them into the future.
–Richard von Busack