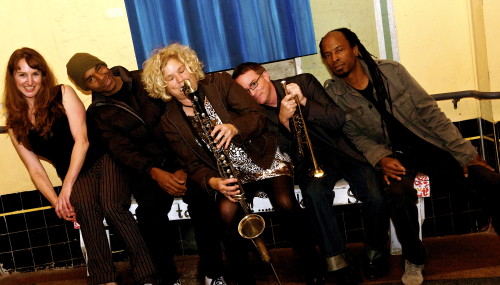 THE BETH CUSTER ENSEMBLE is a crème de la crème of Bay Area musicians and includes Jan Jackson on drums, (Will Bernard, Curtis Bumpy), guitarist/vocalist David James (Afro Funk Experience, The Coup, Spearhead), Chris Grady on trumpet (Tom Waits, Grassy Knoll, Jewel), Vicky Grossi on bass (Mitch Marcus, Bitches Brew), vocalist Diana Mangano (Jefferson Airplane) and Beth Custer, clarinets/vocal (Club Foot Orchestra, Trance Mission, Eighty Mile Beach, Clarinet Thing).
The Beth Custer Ensemble delights audiences with a wide-ranging repertoire that includes live music to silent film scores, dance and theatre productions, and concerts.  Recent commissions include from AXIS Dance Company,   San Francisco Cinematheque, The Joe Goode Performance Group, and performances at Davies Symphony Hall's After Hours Series, and countless concerts in the US and abroad. BCE has varied repertoire of songs and instrumentals by Custer and by guitarist David James. A set might include a funky political song followed by a lilting country waltz, then an Afro-fusion instrumental. Audiences of all ages delight in their concerts.
Highlight performances include Yoshi's, Freight & Salvage, The Stone in New York, Davies Symphony Hall After Hours Series, San Francisco's Exploratorium, and the Throckmorton Theatre.
Listen here
https://www.youtube.com/watch?v=6XPAcCACifY
Press Reviews