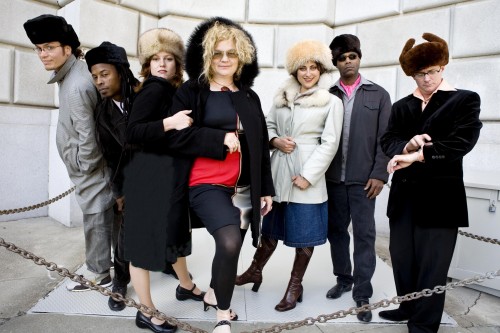 The Pacific Film Archive commissioned Beth Custer to compose a live original score to a film from their archives entitled MY GRANDMOTHER (1929). My Grandmother, a delightful Soviet Georgian silent film by director Kote Mikaberidze, was banned upon release by the Soviet Regime for its anti-bureaucratic content and the director was banished to Siberia. Custer received the prestigious Aaron Copland Recording Fund award to record and release her score with the film on DVD. She has toured internationally with her ensemble performing at festivals, museums, theatres, and alternative spaces.
Forgotten for a half-century, Kote Mikaberidze's MY GRANDMOTHER (CHEMI BEBIA/1929) is a delightful example of the Soviet Eccentric Cinema movement as well as an irreverent satire of the then still-young Soviet State system. Noted for its anarchic styles—which include stop-motion, puppetry, exaggerated camera angles, animation and constructivist sets—the film unspools the foibles and follies that abound when a Georgian paper pusher, modeled after American silent comic Harold Lloyd, loses his job.
Custer's score is for 7 musicians and narrator, and is a quick-paced pastiche of American jazz and blues, contemporary classical, and world folk music that matches the film's intensity and underscores it's rare subtleties. Some improvisation in the score keeps it fresh for those of you lucky enough to see the ensemble perform live with the film.
Highlight performances include MoMA in both New York and San Francisco, Bernal Heights Outdoor Cinema, the Throckmorton Theatre, Alberta Rose Theatre, Montalvo Arts Center, Maryland Film Festival, Cornell's Willard Hall, Merkin Concert Hall, San Francisco's Jewish Community Center, the Pacific Film Archive, a performance and panel discussion at Cal Poly Pomona, the Cork International Film Festival in Ireland, Berwick Upon Tweed Film and Media Arts Festival in England, the Long Arms Festival in Russia, and MOFFOM in Prague, among many others.
Also Known As: ჩემი ბებია (Chemi Bebia), Моя Бабушка (Moya Babushka)
Listen
»MP3 • Radio discussion on KPFA with Beth, film historian Andrei Khrenov, and film archivist Steve Seid
Film trailer:
Press Reviews