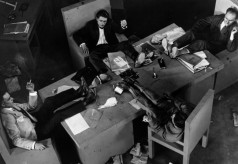 MY GRANDMOTHER (1929) is a Soviet Georgian silent film by director Kote Mikaberidze. It was banned upon release and the director banished to Siberia by the Soviet Regime for its anti-bureaucratic content. Beth Custer has coupled this amazing film with her own score performed by the Beth Custer Ensemble. Hans Wendl produced the soundtrack with Custer, Jeff Cressman recorded it, and Joe Lambert of Classic Sounds mastered it. The film's Russian intertitles are narrated in English with a few words shadowing in Georgian. Now for the first time, BC Records is releasing the music only CD version of the score's twenty-one tracks available online in the BC Records boutique.
Forgotten for a half-century, Kote Mikaberidze's MY GRANDMOTHER (CHEMI BEBIA/1929) is a delightful example of the Soviet Eccentric Cinema movement as well as an irreverent satire of the then still-young Soviet State system. Noted for its anarchic styles—which include stop-motion, puppetry, exaggerated camera angles, animation and constructivist sets—the film unspools the foibles and follies that abound when a Georgian paper pusher, modeled after American silent comic Harold Lloyd, loses his job.
Custer received the prestigious Aaron Copland Recording Fund award to record and release her score with the film on DVD. The score is a quick-paced pastiche of American jazz and blues, contemporary classical, and world folk music that matches the film's intensity and underscores it's rare subtleties. Some improvisation in the score keeps it fresh for those of you lucky enough to see the ensemble perform live with the film.
The score was originally commissioned by the Pacific Film Archive and recorded with an Aaron Copland Recording Fund award. The '07 Euro/Russia tour and '10 Georgian tour were both funded by Trust for Mutual Understanding awards and a Mid Atlantic Arts grant.
Also Known As: ჩემი ბებია (Chemi Bebia), Моя Бабушка (Moya Babushka)
Listen:
»MP3 • Radio discussion on KPFA with Beth, film historian Andrei Khrenov, and film archivist Steve Seid
Watch:
Film trailer: