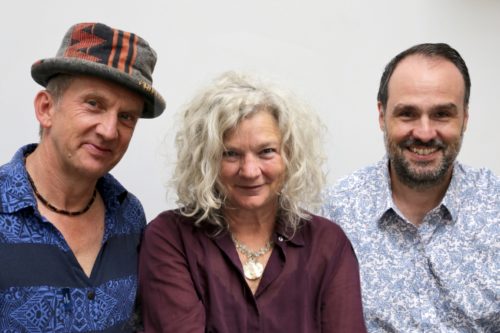 A dynamic trio giving urban tribalism a whole new soundtrack
Featuring
Stephen Kent – didjeridu, percussion, cello-sintir
Beth Custer – B flat, alto, bass clarinets, percussion
Peter Valsamis – drums, percussion, electronics
Trance Mission features three extraordinary multi-instrumentalist/composers with mountains of global accolades to their credit. In this new trio incarnation Trance Mission continues the genre-breaking musical traditions they started in the 1990's. Founded in '91 by Kent and Custer this seminal 4th World quartet out of the Bay Area performed extensively on the West Coast and in Europe and created four universally acclaimed recordings released on San Francisco's City of Tribes label.
The music of Trance Mission is as fresh and alive today as it was at its inception and the band's performances snap, crackle and pop with infectious improvisational spirit and humor. They are currently working on a new release slated for 2018 and booking engagements the world over.
Notable performances include Maybeck Studio, Live Oak Festival, Freight & Salvage, Slim's, Palm's Playhouse, Yoshis, and many more.
The digital aura remarkably marries the indigenous instrumentation with a rare naturalness, resonating with the full flame of world-derived trance power. — Sam Prestianni
A unique Aboriginal, African and European fusion. Their rhythmic, trance-inducing music for didgeridoo, drums and synthesizer makes a perfect soundtrack. — j. poet
This is such deep, exploratory, soulful music…unlike anything I've ever heard. It's world music, yes, but at the same time its progressive, jazzy, tribal, traditional, jamming, driving, trance rhythms…I hear something new everytime I put this CD on. — PG, Dirty Linen
The Music
For the first time in over 10 years, the entire Trance Mission catalog is now available on CD Baby at http://www.cdbaby.com/cd/trancemission2
Or listen here:
Press Reviews